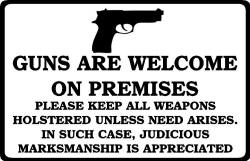 I go armed virtually 24/7.
If I don't have a firearm strapped on, I usually have one within arm's reach.
I carry openly at home and at our church meetings and encourage our members to do so as well. (Our church meeting house happens to be the bottom floor of my residence).
I am also the chairman of Free Florida First, an organization that advocates the secession of Florida from the Amerikan Empire (the so-called USA). Free Florida First meets in the church meeting house and I encourage our members to openly carry at those meetings as well.
Unfortunately, the State of Florida infringes upon our God-given rights in that it does not permit open carry in public. So when I'm not at home I carry concealed. While I have a permit from the state of Florida to do so, I recognize that such a requirement is but another infringement upon my God-given rights.
There are any number of reasons that I go armed. On occasion I have been asked about it, so I have decided to set forth a few of those reasons.
First, I go armed, because it is my God-given, unalienable right as a man. The Scriptures confirm the right of self-defense time and again. In particular, our Lord instructed His disciples to arm themselves. In fact, it was such a priority that He told them to sell their coats, if need be, to procure those arms.
Luke 22:36
Then said he unto them, But now, he that hath a purse, let him take it, and likewise his scrip: and he that hath no sword, let him sell his garment, and buy one.
Second, I go armed because it is my duty as a husband, a father and a grandfather to protect my family to the utmost of my ability.
1 Timothy 5:8
But if any provide not for his own, and specially for those of his own house, he hath denied the faith, and is worse than an infidel.
According to Strong's Concordance, the word translated provide, literally means: "to consider in advance, that is, look out for beforehand."
This includes more than just financial provision. It necessarily includes provision for the security, the safety and the general well-being of a man's family.
My wife, my grown children and my grandchildren see me go armed almost all of the time. They know that I am doing all that I can to guard them and to ensure their well-being. I have considered "in advance" what might be necessary for their protection and have made provision for it.
Third, I go armed as an example and encouragement to others.
I want to encourage my family, our church members, our Free Florida First members and my friends and acquaintances to go armed, not only by my words, but also by my actions.

Philippians 3:16-17
Nevertheless, whereto we have already attained, let us walk by the same rule, let us mind the same thing. (17) Brethren, be followers together of me, and mark them which walk so as ye have us for an ensample.
Fourth, I go armed because there are evil men who would do me or mine harm.
Mark 3:27
No man can enter into a strong man's house, and spoil his goods, except he will first bind the strong man; and then he will spoil his house.
One cannot read the newspaper or watch the TV news without realizing that we live in a wicked and sin-cursed world. We must be prepared to deal with wicked men.
Perhaps some of you remember the August 15, 2012 shooting that occurred at the Family Research Council (FRC) in Washington, DC. According to the tagline on their web site, the Council stands for "the advancement of faith, family and freedom."
Recently, the shooter in that incident, Floyd Lee Corkins, pled guilty to the charges brought against him. In that hearing, it was revealed that Corkins used the Southern Poverty Law Center's Website to Identify the FRC as a target.
Tony Perkins, President of the Family Research Center noted:
While Corkins was responsible for the shooting, he had been given a license to perpetrate this act of violence by groups like the Southern Poverty Law Center which has systematically and recklessly labeled every organization with which they disagree as a "hate group."
Now, let me get into some specifics here.
Whatever things the advocates of political correctness and collectivism and liberalism find to hate in the Family Research Council, they will find in spades in our local church and in Free Florida First.
Presently our chapter is pin-pointed on the SPLC hate map as a "Neo-Confederate Hate Group" located in Archer, Florida.
If one Goggles "Free Florida First," our chapter web site comes up at the very top of the results.
If one follows that link to our site and clicks on our "meetings" button they will find our address, phone number and a map to the church meeting house, where our meetings are held. As noted earlier this meeting house is on the bottom floor of my personal residence.
Should a Floyd Corkins decide that he wishes to take revenge against someone on the SPLC's Hate Map, I plan to be prepared to deal with him.
Fifth, I go armed to confirm my own mindset of resistance to criminality and to tyranny and to openly manifest it to others.
I am prepared spiritually, mentally and physically to confront evil men who would harm my family or who would seek to destroy our way of life, be they petty criminals, deranged psychopaths or governmental tyrants. (Yes, I realize that those three categories often coincide with one
another).
I stand with my Baptist forefathers, who during the First War for American Independence took as their mottos: "Resistance to Tyrants is Obedience to God" and "No King, but King Jesus."
Finally, I go armed to demonstrate to would be tyrants that I will not comply with their diktats to register my firearms or to surrender them to government bureaucrats.
I stand with the Spartans of 480BC, with our ancestors at the beginning of the First War for Independence, with the Texans of Gonzales in 1835, and with many other brave souls through the years.
I say to the tyrants, if you want my arms: Molon Labe -- "Come and Take Them."